Medical Courses After 12th Without NEET: The medical stream is very rich and popular among students. Millions of students enrolled every year to find admission to any of the medical-related programs. However, the inclusion of NEET made it difficult for aspirants to achieve their goals. Someone who has an interest in pursuing a career in the medical industry but finds NEET difficult shall get other course options in the article.
The medical courses after 12th without NEET are available in the branches like physiotherapy, veterinary sciences, occupation therapy, psychology, pharmacy, anesthesia, and more. The shortlisted courses that had helped candidates in the past to grab a successful occupation are listed below.
BSc Audiology

BSc Psychology

BSc MLT

BSc Anaesthesia Technology

BSc Nutrition and Dietetics
Students who have a medical degree can work in the various profiles of an audiologist, speech therapist, MRI technician, nutrition trainer, etc. The average starting salary package of the medical professional is around INR 3 LPA to INR 5 LPA.
The basic eligibility and fees of medical courses can be seen in the following section.
Candidates should have passed 12th or similar level exams with science or related subjects from the approved board in India. 

The approximate cost of medical courses after 12th ranges from an amount of INR 16,000 to INR 60,000 semester-wise.
Medical Courses After 12th Without NEET Highlights
| | |
| --- | --- |
| Course Name | Medical Courses |
| Course Duration | 3 to 5 Year |
| Admission Process | Online |
| Eligibility Criteria | 12th Pass with 45% marks |
| Offer By | IMTS Institute |
| Approved By | UGC / DEB |
| Fee Structure | INR 27,500/- to INR 1,42,500/- |
| Level | Bachelor Level |
Can I pursue Medical Courses After 12th without NEET?
Although MBBS and BDS are two of the most famous medical programs after 12th in India, numerous medical and paramedical courses do not require NEET. For getting admission to these courses following are the main requirements.
To enroll in one of these medical courses, a student must have received a 50% or above on their 12th-grade science examinations. The courses last an average of four years.

In order to make an educated decision regarding which courses to follow, these applicants must be aware of the medical courses that are open to them without taking the NEET.
Medical Courses After 12th without NEET
After Class 12, students can enroll in a variety of medical courses that might lead to promising employment options. All candidates who are involved in health tracks other than MBBS should read this post till the end to learn about numerous medical degrees available after the 12th without taking the NEET.
Following is a list of medical courses that do not require the NEET exam and are available after class 12.
B.Sc. Nursing

B.Sc. in Microbiology

B.Tech in Biomedical

B. Pharma

B.Sc. in Nutrition

B.Sc. in Biotechnology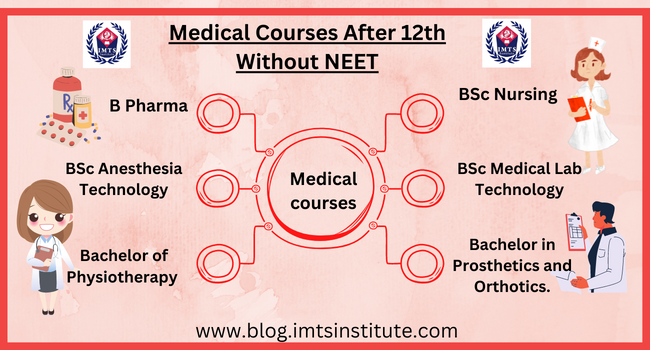 Medical courses after 12th without NEET
To enroll in the medical stream, students can study PCB in the 12th grade. BSc Cardiology, BSc Microbiology, BO Optometry, Diploma in Medical Technician, Diploma in Naturopathy, and more do not require NEET scores. Students will be admitted based on their 10+2 marks. 
BSc Nursing
The BSc Nursing course is a medical course in which admission can be gained by the applicant based on either the university-conducted entrance exam or based on the merit list process. It is a 4 years duration course that aims at developing students' information and skills related to the nursing discipline along with the study of the BSc course.
The BSc Nursing course is a great option for students who are looking for nursing courses after 12th and among the choices for Medical Courses After 12th Without NEET.
BSc in Naturopathy and Yogic Sciences
Students in this course generally study yoga, a method that cures patients without requiring them to take any medication. The course lasts 5 years plus 1 year of internship. Students can get admission to this without appearing in NEET.
BSc Cardiovascular Technology
BSc Cardiovascular Technology is a bachelor's course that does not need NEET scores. Students who do not apply for NEET or other national-level medical entrance tests have the option to choose this course. In this course, they get to learn about cardiac diseases and their treatments.
BSc Biotechnology
BSc Biotechnology is a 3 years minimum duration course with good career scope. The bachelor specialization course is Introductory Biodiversity and Taxonomy, Microbiology and Macromolecule and DNA Typing, Proteomics and Beyond. There are lots of Universities and colleges offering this course online. 
ANM Nursing
To complete the diploma programme in ANM Nursing, two years are needed. The medical sector is the main area of focus. Students learn how to set up an operating room, maintain various pieces of equipment, maintain records, and provide medications on schedule to patients in this course.
After graduation, students can start professions as nurses, nursing assistants, staff nurses, nursing tutors, healthcare nurses, critical care unit nurses, etc.
B.Pharmacy
Students who have passed the 12th board examination in the science stream are eligible to apply for all diploma courses mentioned in this article.  Enrollment is based on merit scores in some universities and colleges. After this BPharma course, Candidates can become Chemical technicians, Drug Inspectors, health inspectors, pharmacists, etc.
Paramedical Courses After 12th without NEET
The students who have an interest in pursuing a medical course and don't have high scores in the NEET exam can opt for admission into paramedical courses without NEET. There are numerous specializations available for admission into the paramedical courses that the students can opt for if they aspire to medical courses after 12th without NEET.
Some of the top paramedical courses without NEET are listed below:
| | |
| --- | --- |
| Veterinary Sciences | Biotechnology |
| Biomedical Sciences | Toxicology |
| Biochemistry | Public Health |
| Occupational Therapists | Pharmacy |
| Forensic Science and Criminology | Nuclear Medicine |
| Food Technology | Nutrition and Dietetics |
| Nursing | Clinical Research |
| Genetics | Aquaculture and Fisheries |
| Physiotherapy | Naturopathy and Yogic Sciences |
| Dairy Farming | |
High Salary Medical Courses After 12th Without NEET
There are many medical courses after 12th without neet with high salary offered at multiple institutes in India. Courses like BSc Nursing, BDS, BSc Biotechnology, Diploma in Nursing & more are some of the high-salary medical programs after 12th that can be enrolled without a NEET scorecard. Generally, the admission into the course can be done based on the marks scored in intermediate education. 
Scope of Medical Courses After 12th Without NEET
There are various medical courses after 12th without Neet that provide a large employment area in the Medical sector to the students. Courses like Paramedical courses, nursing courses, Clinical Research, BPharma, etc are capable to provide many jobs in different medical sectors. A student can work in a very prestigious post like Biotechnologist, Psychologist, Cytogeneticist, Physiotherapist, etc.
They can work in a hospital, pathology, clinics, or medical stores. A decent salary amount is offered to students with a degree or diploma in medical courses.  
Biotechnologist: After completing a bachelor's degree or diploma in Biotechnology a student will be eligible for the post of Biotechnologist. A biotechnologist can work both in the private and government sectors. A fresher can earn a package of Rs. 2,60,000/- and onwards.
Eligibility Criteria for Medical Courses after 12th Without NEET
Medical students who wish to pursue medical studies after completing their 12th grade must meet specific criteria in order to be considered for admission. Among them are:
Applicants who have a PCB or PCMB group in their 10+2 can apply for admission to top medical institutions in India (without taking the NEET).

The next step is to enroll and prepare for the requisite admission examinations, which have already been explained. Candidates who have a firm grasp of the aforementioned disciplines will find it simpler to pass the admission exams.

Finally, following the exam, the student must visit counseling on a certain date and pick a seat depending on their admission test rating.
Frequently Asked Questions (FAQs)?
Question 1: Do I have to appear for any other entrance exams for courses without NEET?
Answer: Students have to fulfill the basic eligibility criteria and there are no other entrance exams required for the medical courses after 12th without NEET.
Question 2: What is the career scope of pursuing medical courses without NEET?
Answer: Students can work in the medical field on decent salary packages. One can become a Therapist, Nutritionist, Psychologist, etc. after completing the course.
Question  3: Can I do medicine without NEET?
Answer: There is no need for NEET for medical aspirants to get medical admission. Enables learners to focus on their medical careers instead of wasting their one-year study period.