BCom Courses After 12th: BCom offers three-year undergraduate and specialized degree programs in the commerce stream. The branches in commerce were introduced to provide specific learning to perfectly raise students with skills originating from the in-depth study of the subjects. The BCom courses are taught practically, and theoretically.
Students who have passed the senior secondary examination or 12th have numerous options in commerce, e.g., BCom corporate accounting & taxation, banking & finance, management studies, economics, etc.  The average fee that students may encounter in the state, central, private, etc., universities ranges from INR 6,000 to INR 25,000 annually.
BCom courses after 12th admission is generally granted on the merit of qualifying examinations, or entrance exams' valid scores. The BCom courses not only open the door for academic excellence, but someone who passes the bachelor's degree program in commerce with specialization can get a suitable job option also.
The benefits or advantages that make people apply for the BCom program are given below.
After completing the BCom program, students have a chance to apply for popular programs like MBA, and MCA.

Eligible candidates can work in the employment sectors such as banks, media houses, law, management, etc.
BCom Courses After 12th Highlights
| | |
| --- | --- |
| Course name | BCom |
| Full Form | Bachelor of Commerce |
| Duration | 3 Years |
| Eligibility | 12th |
| Offered By | IMTS Institute |
| Fees | Rs 6000/- to Rs 25,000/- per year  |
| Approved By | UGC |
The structural study of the BCom Courses After 12th covers all aspects of the commerce field and students can choose their interested specialization programs for their progressive growth. The duration of this course is 3 years and it consists of 6 semesters.
Best Courses After 12th
What is B.Com?
B.Com stands for Bachelor of Commerce and is a UG-level Course with a time duration of three years. This course is designed with the goal to make students experts in the fields of finance, insurance, accounting, banking, and so on. The subjects that are taught in various courses after 12th commerce are aimed at imparting different related skills to the students and these are taxation knowledge, business laws, business acumen, financial literacy, analytical skills, etc.
Difference Between BCom and BCom Hons
There is a very thin layer of difference between B Com (General) and B Com (Hons). In BCom (General) the students learn about all the subjects that are included in commerce steam. On the other hand in BCom Hons, enrolled students can gain in-depth knowledge about some specific subjects.
What are the Skill Requirements for BCom Courses After 12th?
Whenever you get admission to a course you are given a set of selection requirements and these can have minor changes in various institutes and mostly the academic requirements are the same. Check here:
Those who pass the qualification from a recognized institute up to the learning level of 10+2 are considered fit for applying to the course. It will be preferred if the students have studied commerce in the intermediate class.

After completing these courses most of the students choose to be employed in high-job positions and for these jobs, they must have some skills. In this field, you will need to have complete knowledge of accounting, banking, business laws and principles, taxation laws, and many more.

Such candidates should have strong management skills as these graduates when appointed in the related companies will start managing various tasks properly and within the given time and should have time management skills.

You will need to communicate with different team members so for this you need to have proper communication skills and teamwork skills.
Scope of BCom Courses After 12th
B.Com course has various course specializations available for the students who want to have a prospect of building a good career after graduation degree. Once a student completes a bachelor's degree can opt for the opportunities which are designed for commerce background students. Some of the popular job roles are Accountant, Auditor, Consultant, Company Secretary, Business Analyst, Finance Officer, Sales Analyst, and Junior Analyst.
Also, CA as a career option is considered to be the most professional job, and the scope of BCom Courses After 12th is increasing day by day due to the qualitative curriculum.
BCom Courses After 12th Commerce
Students who are interested in the fields of banking or commerce can enroll in a 3-year bachelor's degree course called BCom, or Bachelor of Commerce, which usually lasts three years. After completing their 10+2 grade from a recognized institution, students who are interested in participating in the B.Com program after the 12th grade can fill up the application form that will be published by the respected institution on their website for the students who have completed their 10+2 class.
During this complete time period, students will be learning about business Management, Accounting, finance, actuarial studies, economics, and many others. Students can get Admission to the BCom Courses after 12th commerce in the distance mode also if they can't Continue their Study from the Regular mode or wants to.
Bachelors of Commerce (B.Com)

B.Com (Hons)

B.Com Banking & Insurance

B.Com Taxation

B.Com Finance

B.Com Accountancy

B.Com Accounting & Finance

B.Com Corporate Secretaryship

B.Com Computer Applications

B.Com Marketing

B.Com with Corporate Accounting & Taxation

B.Com (Hons) – Business Analytics

B.Com in Management Studies

B.Com., LL.B. (Hons)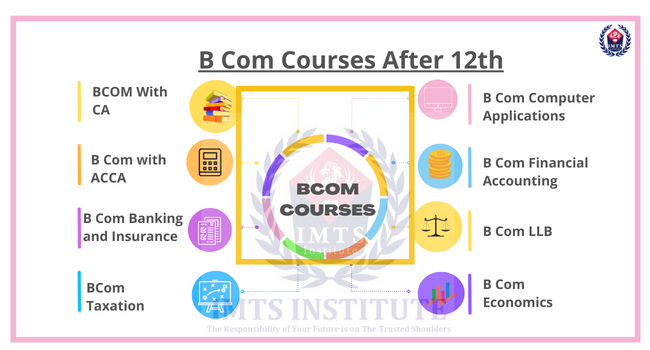 Eligibility Criteria for BCom Courses After 12th
There is eligibility Required for students that are about to have the intermediate Qualification from a worthy institute. The aspirants should secure a score of 50% average in all subjects. It will be taken into preference if the previous degree is relevant. Admissions exams are based on the institute's admission policy. There are many Specializations in Bachelor of Commerce that need good Command over math whereas some of the Subjects can be done without math. 
List of BCom Courses After 12th 
The list of B.Com courses is long and these all courses can be taken after Doing Intermediate. Bachelor of Commerce (BCom) has a number of courses available for the students, and for the choice, we are listing down some of the important points that should be noted down. 
B.Com in Accounting & Commerce

BCom in Finance

BCom in Sales & Marketing

BCom in Auditing and Control

BCom in Transport and Logistics

BCom in Supply Chain Management

BCom in Human Resources

BCom in International Accounting

BCom in Advertising

BCom in International Business
Here are some of the popular BCom courses after 12th that students can opt for in the UG program study. These subjects will help students to have a career in one of the fields. If you observe the course titles, all these topic studies have a great demand in the market. Think about these courses, and once you are confirmed, go on with the admission procedure to study them. 
B.Com (Honors)
The BCom (Honors) is different from the BCom (General) in cultivating business knowledge in students. Although most of the subjects taught are the same the major difference is that you can specialize in a specific subject or field through this program. Students can pick a subject (such as Accounting or Economics) in the final year for specialized studies.
Course Includes: This is also a degree course and students have to undergo 40 subjects each semester. This is also available in regular and online systems. The duration of the course is 3 years and it is further divided into semesters. So there are a total of 6 semesters in B.Com (Honors)
Career after BCom (Honors):
There is a high level of academic attention provided to students in this course. Since this is a professional course, there are plenty of opportunities for B Com (Honors) students in the job market. Students can set up their own businesses based on the knowledge they gain during or After the course.
B.Com in Accounting and Finance
This is also a degree course in Accounting and Finance. In Account and Finance, there are always opportunities available to students. This course is designed to let the students have an understanding of accounts and finance.
Course Includes: It has around 39 subjects and 2 project training. The duration of the course is 3 years and it is available on a regular system basis or in the distance education program. Students who have done their courses after 12th science and also do their courses after 12th arts can do this
Career after BCom (Account and Finance)
Students who have completed B Com (Accounts and Finance) get an opportunity to work in the public sector, banks, governmental organizations, etc. Having full knowledge of Accounts and Finance they can also work on a private basis.
B.Com in Banking and Insurance
Bachelor of Commerce in Banking and Insurance is an undergraduate program where students are given knowledge about banking sectors and insurance. This is both an academic and professional course. The course has 38 subjects and 2 projects on banking and insurance.
Course Includes: BCom is based on 3 years of programs. This can be done either on a regular or distance education basis. Students courses after 12th science those done courses after 12th Arts also do this course
Career after BCom (Banking and Insurance):
Since the course is all about banking and insurance, students can get employment in the banking sector. The insurance sector also has job opportunities for the B.Com in Banking and Insurance Students.
B.Com in Financial Market
Bachelor of Commerce in Financial Market is a degree course spreading knowledge about Financial Services. This includes education about Financial Market, Mutual Funds, etc. The course is for those students who have an interest in a finance career and desire to study further in CA, Banking, etc. The course comes under the BCom courses after 12th.
Course Includes: The course is for 3 years and is divided into semesters. It is available on a regular system or distance education basis. Students those pass Courses after 12th commerce can go for this.
Career after BCom (Financial market):
Since the course gives knowledge about the Finance market, there are lots of jobs available in finance. Mutual fund agencies also have jobs for students who complete B.Com (Financial Market). They also get an opportunity to work in Banks and other financial firms.
B.Com in Accounting
For those interested in entering the accounting sector, the BCom in Accounting is a demanding course that covers all accounting principles, including accounting, banking, management, and taxation. The ACCA can strengthen your understanding of these concepts once you have mastered them and become a Chartered Accountant anywhere in the world.
Job opportunities:
Executive Assistant

Finance Manager

Financial Analyst

Economist

Operations Manager

Tax Accountant

Chartered Accountant
BCom Courses After 12th in India
In India, the B.Com course has various specializations available for students who want to have a prospect of building a good career after graduation degree. The tough part is the selection of the specialization where each student gets confused about which should they select, so here is IMTS Institute to assist students with accurate information.
Employment Sector for B.Com Courses 
The employment options after completing these courses are various and students get appointed in various national as well as multinational companies. They can get job profiles such as insurance consultant, financial consultant, export-import manager, auditor, banker, accountant, stockbroker, and tax consultant.
Accounts Executive: After completing, a traditional Bachelor's Degree students can work as Accounts executives in many organizations. Their responsibilities are to maintain the transactions, generate invoices and manage the excel sheet.
More Courses After 12th
Hotel Management Courses After 12th
Students can opt for the Hotel Management Courses After passing the 12th class from any recognized board. It is a popular course among students. The course suits best for commerce students but students from the science and Arts streams can also pursue the Hotel Management course. BCom Courses After 12th has a large number of courses in which hotel management courses are also included.
Other UG courses available after 12th
BE/B.Tech- Bachelor of Technology.

BSc Information Technology.

BSc Nursing.

BPharma- Bachelor of Pharmacy.

B.Sc- Interior Design.

BDS- Bachelor of Dental Surgery.

BSW- Bachelor of Social Work 

BBA-  Bachelor of Business Administration

B.Arch- Bachelor of Architecture

BCA- Bachelor of Computer Applications
Frequently Asked Questions
Question: Which course of B.Com is best?
Answer: It depends on the interest of the students.
Question: Is B.Com good after 12th?
Answer: Students who have passed their 12th with commerce stream can pursue BCom course. It is good for them.
Question: What is the duration of BCom Courses after 12th?
Answer: The BCom course duration is 3 years and can be extended up to 6 years.